Domain: Classical MD
Converted From: PVM
Scale: 500k CPU cores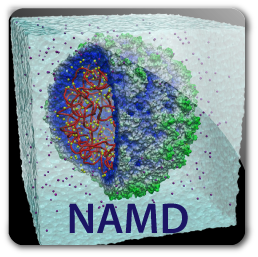 NAMD, recipient of a 2002 Gordon Bell Award, is a parallel molecular dynamics application designed for high-performance simulation of large biomolecular systems. NAMD is a result of many years of collaboration between Prof. Kale, Prof. Robert D. Skeel, and Prof. Klaus J. Schulten at the Theoretical and Computational Biophysics Group (TCBG) of Beckman Institute.
Charm++, developed by Prof. Kale and co-workers, simplifies parallel programming and provides automatic load balancing, which was crucial to the performance of NAMD. It is used by tens of thousands of biophysical researchers with production versions installed on most supercomputing platforms. NAMD scales to hundreds of cores for small simulations and beyond 300,000 cores for the largest simulations.
The dynamic components of NAMD are implemented in the Charm++ parallel language. It is composed of collections of C++ objects, which communicate by remotely invoking methods on other objects. This supports the multi-partition decompositions in NAMD. Also data-driven execution adaptively overlaps communication and computation. Finally, NAMD benefits from Charm++'s load balancing framework to achieve unsurpassed parallel performance. See PPL NAMD research page for more details.